Garden Whirligig
Workshop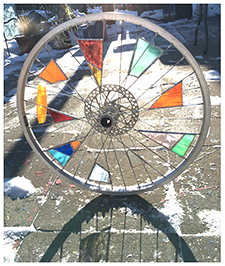 Garden art can make your backyard sing and bring a smile to your face. Add in the upcycling of materials that might otherwise end up in the landfill and you can also pat yourself on the back.

Coloured glass will add a sparkle and a focal point to your garden and as you watch it sparkle in the sun and spin in the breeze, you can enjoy the product of your labour.
This workshop will take the glass student through completion of a basic garden art sculpture. The sculpture will include a recycled bicycle wheel that is augmented with stained glass and mounted to stand alone in your garden.
Students will complete a small wheel with added coloured glass as show on the samples on this page. Participants may take this further if they have the skill or can continue the project at their home studios.

The basic principles of copper foiling and soldering will be covered but this is not the focus of the class.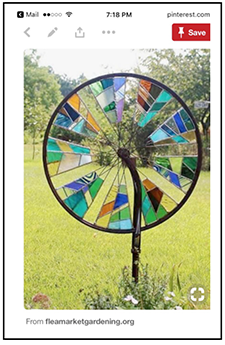 Example: Pinterest post


The Inspiration for this class was the Pinterest post shown on the left.
.
Workshop Day
Date
Location
Facilitator
Saturday
May. 12th, 2018
9:00am to 4:00pm
Al & Joan's hot shop,
Shields SK., (south of Saskatoon)
Elisabeth & Bob Miller
Fractured Glass Studio
Workshop level:
Beginner to experienced
Workshop Total Cost:
Glass Guild Members - $140.00
Non members (includes 2017-18 Guild Memberhip) -$190.00
Workshop is limited to 6 participants.
Registration form and the workshop cost is required for registration.
Cheques should be payable to the Saskatoon Glassworkers' Guild.
Submit completed form and cheque before April 7th, 2018 to:
Yvonne Kurpjuweit
205 Rossmo Rd.
Saskatoon, SK, S7N 2W3
Download: Garden Whirligig Workshop registration form
Workshop Materials:
Class includes glass, wheel, copper foil, solder, flux, and mounting hardware.
However If you have your own glass cutting tools please bring them along.
Each participants needs to bring:
Scissors
PPE - safty glasses and close toed shoes.
Optional to bring if you have your own equipment:
Glass cutting tools (cutter, grozier, runners, etc.)
Soldering Iron if you have one (there will be irons at the class)
Lunch - will be a potluck affair so please bring something to share as well as anything special you wish to drink. We have access to a stove at the hot shop if we need to heat things up.
Coffee will be available.