Glass Blowing
(Murrine, sculptural squiggles and other things)
This will be an exciting workshop in the Hot Shop with Darren Petersen. We will be focusing on pulling murrini using system 96 glass. Darren will also be sharing his skills creating hot worked components such as feet for fused vessels and rollups. There will also be time spend making sculptural elements such as the birds and elements from nature that Darren is known for. The class work will depend largely on the students involved. Students taking this class need to have intermediate skills in the hotshop.
Glass BlowingWorkshop
Workshop by Day
Date
Location
Facilitator
Saturday, Sunday, Monday
April 28-30, 2017
9:00am to 4:30pm
Shields SK. (south of Saskatoon)
Darren Petersen
Workshop Total Cost:
Glass Guild Members - $600.00
Non members (includes 2016-17 membership) - $64500
Workshop is limited to 6 participants.
Intermediate skills in the hotshop are required.
Registration form and 50% of the workshop cost is required for registration.
The balance payable at the beginning of the class.
Cheques should be payable to the Saskatoon Glassworkers' Guild.
Submit completed form and cheque before December 16, 2016 to:
Yvonne Kurpjuweit
205 Rossmo Rd.
Saskatoon, SK, S7N 2W3
Download: Glass Blowing Registration form
Each participants needs to:
Wear cotton or other non-flammable clothing.
Wear leather shoes or work boots, no sandals or cotton shoes.
If you have your own special didymium or hot shop glasses, bring them.
Lunch - will be a potluck affair so please bring something to share as well as anything special you wish to drink.
Coffee will be available.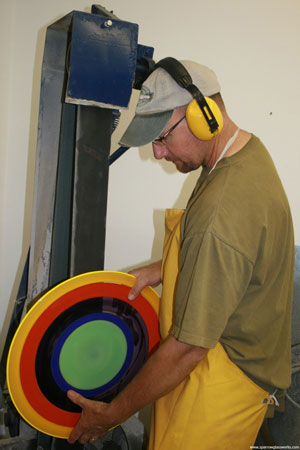 As a glassmaker Darren likes making objects that have a purpose, objects that people interact with daily or on special occasions that become an enriching part of their personal lives. Items that they entrust with food and flowers or raise to their lips and drink from. As an artist Darren is most interested in creating objects inspired by the beauty in nature. He enjoys the profound simplicity of making things with my hands utilizing very basic tools and skills developed in the old fashioned way.
Darren Petersen has been creating blown glass for over 20 years. He received a BFA in glass from the Alberta College of Art & Design and is a regular Series instructor at Red Deer College. He has exhibited work across North America as well as in Germany and South Korea. Darren's work is well represented in the collection of the Alberta Foundation for the Arts and in private collections worldwide.