Yard Art 3.0 Workshop
Barnboard Stained Glass Panel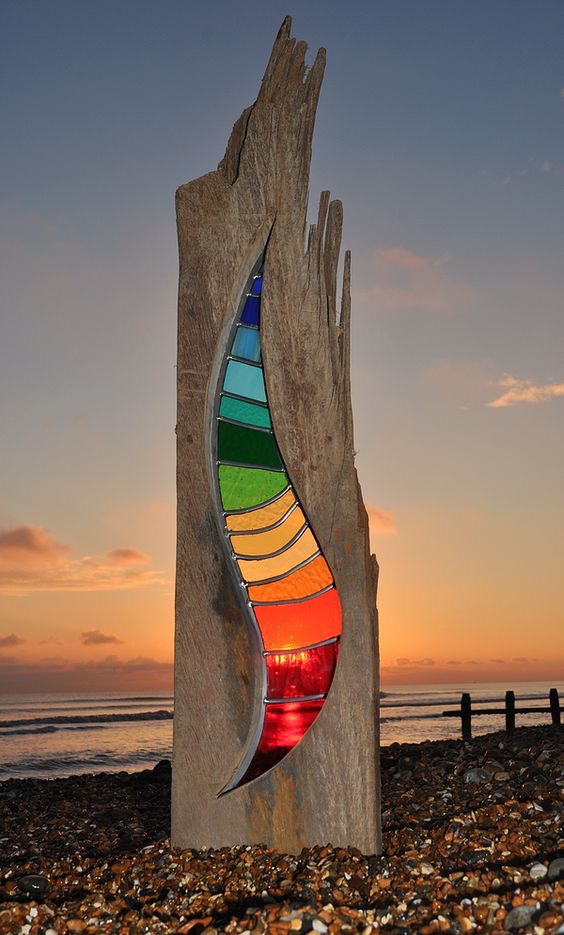 We will be creating our own version of this beautiful wood and leaded glass panel. Students will be using barn wood to cut out an organic design from the center. Once cutting is complete we will begin some basic leaded glass techniques such as cutting the lead, soldering, cutting cathedral glass and making our own design. Colours will be up to the student.
The finished product will be a maximum of 48 inches high and 9 inches wide.
All materials and tools are provided.
Workshop Day
Date
Location
Facilitator

Saturday

May. 27th, 2017
9:30am to 5:00pm

Prairie Glass
Humbold, SK.
see map

Elaina Adams
Workshop Fee :
Glass Guild Members - $100
Non Members (includes membership for 2017-18 year)- $145

Workshop limit: 6 participants.
Download: Yard Art 3.0 registration form

A Registration form and the workshop fee is required for registration.
(Registration fees are non-refundable.)
Include a cheque payable to the Saskatoon Glassworkers' Guild.
Submit completed form and cheque before May 6, 2017 to:
Yvonne Kurpjuweit
(306) 668-2061
205 Rossmo Rd.
Saskatoon, SK., S7N 2W3
Each Participants Needs To:
Wear suitable clothing for working in the glass shop.
Safty glasses are provided.
Lunch - bring your own bagged lunch.
Facilitator - Elaina Adams
Elaina's career began in Stained Glass when she moved to Saskatchewan in 1996. What began as a hobby, quickly bloomed into a passion of working with glass. She enjoys the challenges of this medium and has attended many workshops in order to develop her skills.

In 2000, Elaina opened her studio, Prairie Glass, to be able to share her passion with others through teaching and commission works.