Supporting Your Work
with Custom Stands
Workshop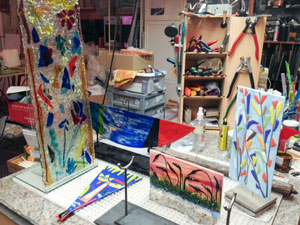 Bob is a master when it comes to displaying his work. He has used many innovative tools and techniques to display his pieces in a creative way. He will be taking some time to share some techniques: using standoffs to display a piece on a wall, what glue to use for what technique, and framing considerations.

This workshop will focus on creating original stands/supports that enhance the look of your work! Bob will also be sharing his tips and tricks on displaying even your most challenging pieces.
Each participant will make two different stands custom built for their typical (approx.8"x8") finished fused or stained glass panel/ plate/ or bowl.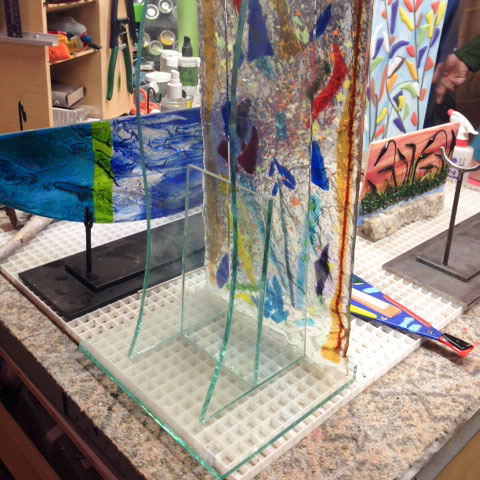 Example stand #1
(shown on left)
A clear glass stand designed to support your work but still let light through. This can be made to suit a variety of pieces including, flat and curved pieces. Bob will be showing how we can make this piece using sanding blocks, lap belt sander, and UV glue.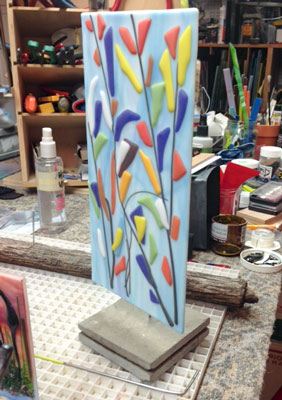 Example stand #2
(shown on right)
This is a slate, glass and metal stand that supports your piece. This stand is very unique and could be changed to suit a wide variety of flat paneled works.

For this stand please bring a flat stained glass piece that is not too heavy. (approx. 8x8) Bob will be showing us how to drill stone, bend rod, and glue metal to glass.
Workshop Day
Date
Location
Facilitator
Saturday
Jan. 13th, 2018
9:00am to 4:30pm
Al & Joans Hot Shop, Shields SK., (south of Saskatoon)
Bob Miller
Workshop level:
Beginner to experienced
Workshop Total Cost:
Glass Guild Members - $100.00
Non members (includes 2017-18 Guild Memberhip) -$145.00
Workshop is limited to 6 participants.
Registration form and the workshop cost is required for registration.
Cheques should be payable to the Saskatoon Glassworkers' Guild.
Submit completed form and cheque before December 15th, 2017 to:
Yvonne Kurpjuweit
205 Rossmo Rd.
Saskatoon, SK, S7N 2W3
Download: Custom stands workshop registration form
Workshop Materials:
This includes all material, tool, and toys to complete the two stands you will build in this workshop.
However If you have your own glass cutting tools please bring them along.
Each participants needs to bring:
A finished bowl and/or plate, and panel.
PPE - safty glasses, work gloves, and close toed shoes.
If you do not have finished pieces you can make stands for future work as well. If you have a piece that you are struggling to find the right display for, please bring that as well for discussion.
Lunch - will be a potluck affair so please bring something to share as well as anything special you wish to drink. We have access to a stove at the hot shop if we need to heat things up.
Coffee will be available.
Facilitator - Bob Miller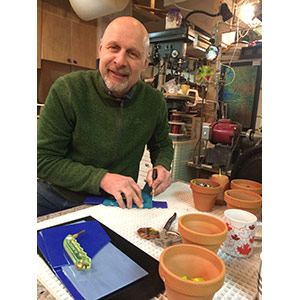 I have always liked the way stained glass can be manipulated to form various artistic or functional pieces, first learning glass working techniques using foil, and now trying various methods of fusing glass to explore more possibilities in what glass can do.