Flamework Implosion
Pendants Workshop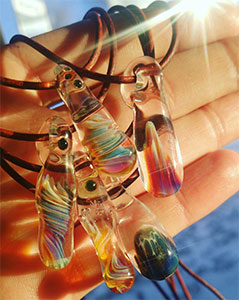 We are going to create a pendant with colored glass imploded inside clear glass. We will learn how to create a maria, apply the color & then melt the glass in such a way that the color will be pulled up inside - sort of like when you drop ink into water. After the basics are learned, artists will be able to play with multiple colors and decide if they want to put a slight or aggressive twist and shape the flow of the colors however they like. Also we will learn how to create a bail, or loop at the top of the pendant, and then put it away for annealing.
This class is intended to teach artists the implosion technique. It can later be applied in many ways, using metal fume or shaping the finished product into marbles, etc. However, in this class we will make small pendants for ourselves and to be given as gifts! After a verbal explanation of the materials and tools that will be used as well as instruction on the process, I will provide a demonstration on three pendants so that everyone has a chance to absorb the procedure. After that, we will head to our torches and try it for ourselves! I will walk around and be ready to answer questions or re-explain anything and can jump in and help with a step anyone may get stuck on.
You will take away 3-5 pendants, or more if you really get the hang of it!
Workshop Day
Date
Location
Facilitator
Saturday
June. 23td, 2018
9:30am to 4:30pm
Al & Joan's hot shop,
Shields SK., (south of Saskatoon)
Brandon Vukelic
Workshop level:
Beginner
Workshop Total Cost:
Glass Guild Members - $120.00
Non members (includes 2017-18 & 2018-19 Guild Memberhip) - $165.00
Workshop is limited to 6 participants.
Registration form and the workshop cost is required for registration.
Cheques should be payable to the Saskatoon Glassworkers' Guild.
Submit completed form and cheque before June 2, 2018 to:
Yvonne Kurpjuweit
205 Rossmo Rd.
Saskatoon, SK, S7N 2W3
Download: Flamework Implosion Workshop registration form
Workshop Materials List
Class includes:
Materials: 2 x 12" 10mm Rod, 2 x 12" 7mm Rod, Various Colored Glass Stringers
Shared Tools: Reamer, Tungsten Pick, Tweezers, Protective Glasses, Kiln Annealing
Each participants needs to:
Wear cotton or other non-flammable clothing with short sleeves or sleeves that can be rolled up or be tight to your wrists.
Wear leather shoes or work boots, no sandals or cotton shoes.
Lunch - will be a potluck affair so please bring something to share as well as anything special you wish to drink.
Coffee will be available.