Intermediate
Hot Shop Skills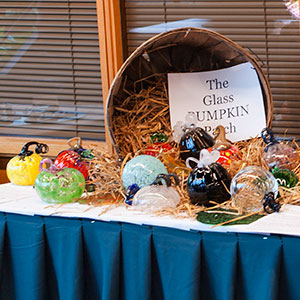 This workshop is designed for the people who will be taking the workshop from Darren Peterson in the spring. We will be working to hone our skills in the hot shop to build independance. Students will be required to challenge themselves by doing most of the work by themselves under the guidance of Joan and Al Hiebert. Our main project will be to make a blown pumpkin, gourd, fish, Ogopogo sculpture with one or more attached squiggles. The idea is to have a blown sculpture with an attached piece. Students will also practice manipulating (pulling) the glass to create various shapes. The goal is to be able to feel comfortable manipulating the glass when we do our workshop with Darren.
Glass BlowingWorkshop
Workshop by Day
Date
Location
Facilitator
Saturday
October 15, 2016
9:00am to 4:30pm
Shields SK. (south of Saskatoon)
Al & Joan
Workshop Total Cost:
Glass Guild Members - $200.00
Non members (includes 2016-17 membership) - $245.00
Workshop is limited to 6 participants.
Intermediate skills in the hotshop are required.
Registration form and 50% of the workshop cost is required for registration.
The balance payable at the beginning of the class.
Cheques should be payable to the Saskatoon Glassworkers' Guild.
Submit completed form and cheque before October 7, 2016 to:
Yvonne Kurpjuweit
205 Rossmo Rd.
Saskatoon, SK, S7N 2W3
Download: Intermediate Hot Shop skills registration form
Each participants needs to:
Wear cotton or other non-flammable clothing.
Wear leather shoes or work boots, no sandals or cotton shoes.
If you have your own special didymium or hot shop glasses, bring them.
Bring a water bottle since you will be drinking water all day.
Lunch - will be a potluck affair so please bring something to share as well as anything special you wish to drink.
Coffee will be available.
Facilitators - Joan & Al Hiebert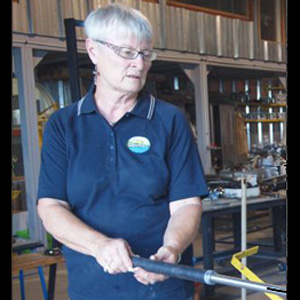 I retired in January, 2002 and have devoted greater time to glass design and production. My husband, Al, and I have built a glass studio at Shield's Town site for cold, warm, and hot glass. For the past ten years it has been an incredible opportunity to focus on my passion, hot glass. My love for experimentation and commitment to lifelong learning is the basis for developing glass blowing and casting techniques.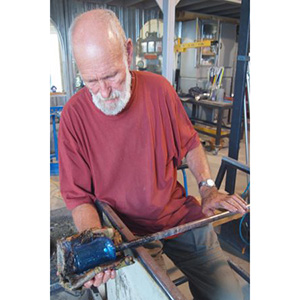 I enjoy working with all materials and like designing articles that are both practical and artisitc. Many of the processes used in working with materials are similar and a common sense approach to solving problems and developing skills that lead to success is most satisfying. Hot liquid glass is one of the most pliable and manipulative materials and I find the challenge of working with hot glass very rewarding. The creation of pieces involving a combination of media such as wood, metal and glass allows a freedom of expression that has no boundaries.