Kiln Casting Workshop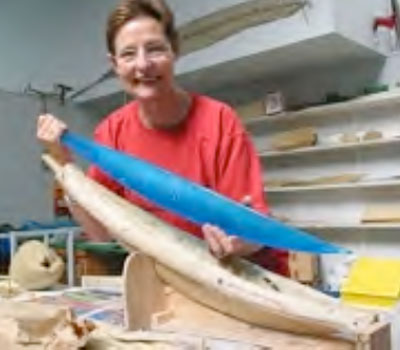 This 3 day workshop was designed by Shona to take the glass student through the process of creating a lead crystal sculpture of the students design.
The sculptures will be kept small (3" x 3" x 5" or 70mm x 70mm x 120mm) to ensure that we have adequate kiln space.
The workshop is divided into two weekends. This allows the kilns to be programmed so they fire during the week between workshop classes.
The workshop is about the process and the finished article will be as good as your wax model, concept, design, and finishing. Remember that this is a learning experience.
Kiln Casting Workshop
Workshop by Day
Date
Location
Facilitator
Friday - Prepare sculptures and encase the wax master mold in a poured plaster/silica casing.
Aug. 12, 2016
9:00am to 4:00pm
Shields SK. (south of Saskatoon)
Shona Firman
Ssaturday - The wax will be steamed out of the molds and then lead crystal chunks will be weighed and set up in a feeder pot positioned over the secondary plaster mold in the kiln and fired.
Aug. 13, 2014
9:00am to 4:00pm
Shields SK. (south of Saskatoon)
Shona Firman
Saturday- Students will break the plaster away from their fired pieces and complete the process of finishing, using dremels, sandblasting and acid etching. How to plan a firing schedule and program the kiln for various projects will be presented.
Surface adornment will be discussed.
Aug. 20, 2014
9:00am to 4:00pm
Shields SK. (south of Saskatoon)
Shona Firman
Workshop Total Cost:
Guild Members - $350.00
Non Guild Members one time only special price - $350.00
(no membership included)
Workshop is limited to 10 participants.
Registration form and 100% of the workshop cost is required for registration.
Cheques should be payable to the Saskatoon Glassworkers' Guild.
Submit completed form and cheque before Aug, 5, 2016 to:
Yvonne Kurpjuweit
205 Rossmo Rd.
Saskatoon, SK, S7N 2W3
Download: Kiln Casting Registration form
Workshop Materials List
Class includes glass, mold material, and firing.
Each participants needs to bring:
Glass cutting tools (cutter, grozier, runners, etc. if you have them)
Safety glasses
Paper towels
Glass cleaner
Wax carving tools (if you have them)
3 gallon plastic bucket for mixing plaster
Large sifter for plaster
Large measuring container/cup for calculating glass volumes
Lunch - will be a potluck affair so please bring something to share as well as anything special you wish to drink.
Coffee will be available.
Facilitator - Shona Firman
Shona Firman works with cast glass, and her spiritual and symbolic pieces are stunningly beautiful. Many of Shona's vessels and sculptures are blue, since the touch-stones of ancient people were often blue, giving this colour a special significance. Her series of canoes, based on ancient New Zealand wakas, are each unique. Each one is made from a mold which is destroyed when the glass is released from it.
Shona Firman was born in Whangarei, in the North of New Zealand, in 1940. She started her career as a display artist for a retail store, and in her thirties spent time sailing in the South Pacific and working as a designer and artist in Hawaii and in Canada. In the 1980s she started her own business designing, manufacturing and selling soft toys. She studied management and later attended Northland Polytechnic studying applied arts. It was here that she studied glass making under Keith Mahy's direction.
After graduating with merit and majoring in Glass, Shona was awarded a scholarship to attend the Pilchuck Glass School, in Seattle, USA. She was awarded a New Craft Artist Production Grant from the Queen Elizabeth II Arts Council of New Zealand, and made a study tour to Perth, in Australia. On her return she became she conducted workshops at Auckland Unitec, and a year later in 1995 she and Keith Mahy became partners and set up the Burning Issues Glass Studio and Gallery in Whangarei.
Over two decades of professional practice Shona has had constant threads of Pacific narrative; canoe forms, tattooed needle fish, frigate birds, tangaroas and pods, as well as a reflection of the human affinity with the sea. The most constant of all her influences is the glass itself; its colour, transparency, fragility and parallel robustness and a steady play with the light captured within.
"We all paddle our own canoe through life, and its a different journey for each of us, but basically its the same canoe".......Shona