Find Your Marbles with Ken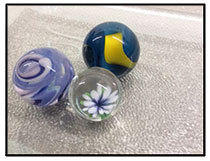 This class will be focused on making boro glass marbles and egg shapes. Forming, shaping, and implosions will be some of the topics discussed. There will be some discussion in addition to each student having their own torch to work on. We will be using coloured glass to make dots, swirls, marbled rainbow marbles, and various implosions. Reduction colours will also be experimented with. Students should go home with about 4-5 marbles and one drop pendant depending on the student's own speed. This class will be customized for the students in the class. Beginners as well as people that have taken a marbles class already are welcome. Ken will have projects that can be made simpler if you are a beginner and more difficult if you are intermediate.

Workshop Day
Date
Location
Facilitator
Sunday
Jan. 8th, 2017
9:30am to 5:00pm
Al & Joans Hot Shop, Shields SK., (south of Saskatoon)
Ken Friesen
Workshop Total Cost:
Glass Guild Members - $150.00
Non members (includes 2016-17 Guild Memberhip) - $195.00
Workshop is limited to 6 participants.
Registration form and the workshop cost is required for registration.
Cheques should be payable to the Saskatoon Glassworkers' Guild.
Submit completed form and cheque before December 3 2016 to:
Yvonne Kurpjuweit
205 Rossmo Rd.
Saskatoon, SK, S7N 2W3
Download: Find Your Marbles Registration form
Workshop Materials List
Class includes borro glass rods, glasses, and other tools and toys required for the workshop.
Each participants needs to:
Wear cotton or other non-flammable clothing with short sleeves or sleeves that can be rolled up or be tight to your wrists.
Wear leather shoes or work boots, no sandals or cotton shoes.
Lunch - will be a potluck affair so please bring something to share as well as anything special you wish to drink.
Coffee will be available.
Facilitator - Ken Friesen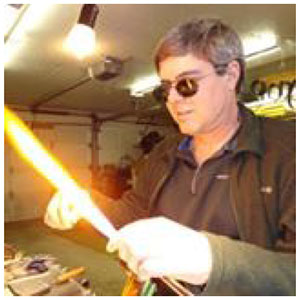 Ken Friesen loves to work with boro glass in his studio in Dundurn, Sk. Marbles have become a passion for Ken over the last several years. He has worked to decorate his marbles with a variety of surface ornamentations such as swirls, dots, and many flower implosions. He has even created very realistic looking glass eye balls that he has incorporated into the faces you see below and into dragon's eyes as well. He has also adapted the round marble theme to include eggs as well. Ken's latest challenge has been creating small vessels from large glass tubing.